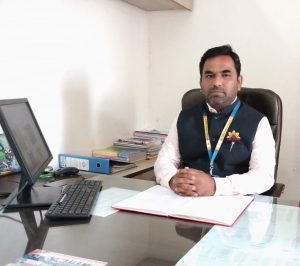 Mr. Abhijeet Kure Patil
Principal,
MIT VGHS Nanded
Inspired by quotes as such, MAEER's MIT Pune started MIT Junior College with specific vision, mission and hence to attain some important objectives contributing to the preservation of national values and sustainable development of the country.

Since establishment, the prime focus of the college has been imparting quality education to the students.

Situated amidst lush green environment within city limits and located behind Mata Ratneshwari Temple near Swami Ramanand Teerth Marathwada University, Nanded, the college equipped with a grand multistorey building facilitating all the residential amenities is one of its kind.

The ambience there inspires students to learn and provides ample opportunities for their holistic development. The campus spread over 40 acres with the capacity to host more than 200 students is simply awesome.

Besides, providing excellent academic education, the college has undertaken various initiatives for overall development of the students. We urge our students to get hands-on experience of everything.
It is said that 'A sound mind dwells in a sound body', hence college has started organic farming inside the campus which is a unique feature of the college.

Conceptual teaching has been the core of our academic planning. The staff has been toiling hard to prepare the students so that they can pursue higher education in the professional institutes across the country.

We are particularly keen on the implementation of various internal evaluation techniques such as s class tests, seminars, tutorials. An in-depth continuous assessment of such type help us identify students with different comprehension abilities.

We provide an excellent educational environment that bridges theory and practice, enhancing the ability of students to fulfill their potential and to contribute to the society.

In MIT, we have been striving to transform students into a well qualified and disciplined citizen with strong fundamentals and deep rooted values to face the challenges of the new world.

Let me hope a better and pray the God almighty to bestow upon us the very bright success.