The college has well equipped laboratories for chemistry, physics and biology. The lab equipment allows students to directly practice what they have learnt in theory. Such hands-on approach encourages students to develop interest in scientific research. When they carry out different experiments and observe things, their reasoning skills are honed, and they start thinking and analysing the various theories and concepts. The college encourages students to do things and learn on their own. It makes teaching and learning easy.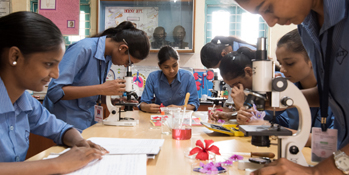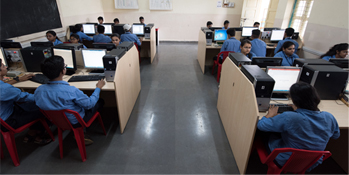 The lab provides well configured computers with internet facility. It facilitates the achievement of the school's goal of providing hands-on experience in computer software and hardware. Students, faculty and other staff members have access to the lab, which provide the tools and technologies required to create websites and blogs, edit documents, complete class assignments, communicate via email and conduct data analyses. Teachers of various subjects also use the lab for effective teaching and expanding their own knowledge base.
In the present era, the field of electronics & communication, plays an important role in almost every sphere of life. Today, humans are surrounded by various electrical and electronic devices. The lab is well equipped with adequate facilities, devices and essential apparatus such as CRO, dimmer, function generator, etc. that serve as the basic building block for most electronic and electrical devices. The objective is to develop practical skills, so that students can design real circuits. Utmost safety is ensured in the lab, while trying to maintain efficiency.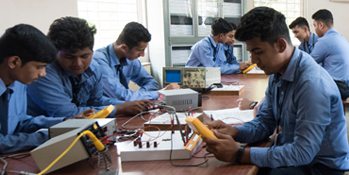 It plays a very important role in enhancing knowledge and understanding the concepts for both, students and teachers. It inculcates and improves the reading habit among students, enables greater academic achievement, and helps to build a positive attitude towards learning. The spacious library, which is located on the ground floor of the college building, contains adequate sitting arrangement and a vast collection of books including reference books, competitive examination books (such as those for JEE, CET, banking, MPSC, etc.), fiction, novels, science fiction, biographies and autobiographies. In addition, various English and Marathi newspapers and magazines are available. For reference and practice, previous question paper sets of both, board and internal examinations, are also available, along with journals.

It has a capacity of accommodating approximately 250 students at a time. It has good lighting and sound system. Co-curricular programs, training programs and meetings are regularly conducted here.
To develop the sporting spirt among students, the college encourages them to participate in various competitions such as volleyball, throwball and football at the district, state and national levels. The sports ground facilitates all such activities. The department of Health and Physical Education in the college believes that a healthy mind resides inside a healthy body. Sports are not treated as a mere subject or activity; but as a platform to groom the students in values such as team spirit. It also helps the students to get relief from the hectic study schedule.