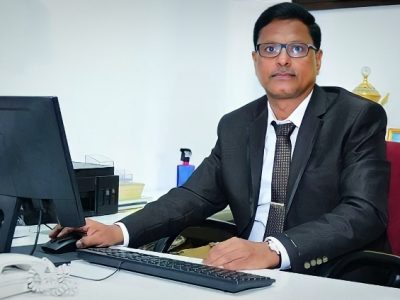 Dr. Sadashiv Kumbhar
Principal, MITVGHS Alandi
Dear Parents and Students,
It is with great pleasure that I warmly welcome you to the MIT College Alandi (D) branch. I hope to convey the passion and enthusiasm that both the staff and parents bring to you and all that they do here making MIT Junior College Alandi (D) Branch as a wonderful place to learn. As Principal I am hugely impressed by the commitment of the college and the staff to the provision of an excellent all-around education for our students in our state-of-the-art facilities. The all-round progress of our students is of paramount performance and our most cherished motto as it will help them to empower better India through education.
The main focus of the institution is to empower the students with sound knowledge wisdom, experience, life values and methodological training both at the academic level and in the highly competitive global market. As Benjamin Franklin said "Tell me and I forget, teach me and I remember, involve me and I learn" We want our students to be lifelong learners.
It is found that the institution has achieved so many feathers to its crown during the last few years. The efforts taken by the management, principal, faculties, parents and students to reach this success are commendable. With experienced and dedicated faculties and excellent infrastructure our college help students to realise their goals in life.
MIT believes that the purpose of education is to turn mirrors into windows and as much as touched not only on pure studies but also on providing an opportunity to each student to explore his or her own capabilities and area of interest through curricular, co-curricular, or extracurricular. We aim to develop soft skills that will equip them to manage and lead the varied opportunities and challenges of society with an added edge.
Our College is recognized as a state leader in teaching and learning, student relationships, and wellbeing. We create a safe social and physical environment that helps all our students learn and succeed. I am pleased to report that our dedicated approach to teaching and learning is seeing real benefits for our students.
Besides academic excellence MIT Jr. College, Alandi (D) has taken the moral responsibility to provide an atmosphere for the spiritual, mental, and physical growth of the children. Quality education releases capacities, develop analytical abilities, confidence in oneself, will power and goal setting competencies and instills the vision that will enable the child to serve the best interests of humanity.
In order to accomplish our vision and mission, we are prepared to take as much effort as possible for the betterment of the academic scenario in India. We believe that education is an effective medium of social transformation. We get encouragement, by looking at the bright and successful careers of our hundreds of students, which subsequently benefit society. We feel proud that we are part of such an excellent institute, which is shaping modern India. With a long and rewarding history of achievement in education behind us, our institute continues to move forward together with confidence, pride and enthusiasm.